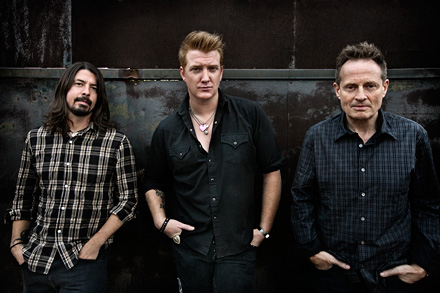 Tras varios experimentos de supergrupos formados por miembros que ya tienen un prestigio musical internacional, del que destacó el grupo "Travelling Wilburys" a finales de los 80 (formado por: Bob Dylan, Tom Petty, Roy Robison, Jeff Lynne y George Harrison), se ha fundado un nuevo supergrupo que pretende revolucionar el panorama musical hasta ahora conocido. Este grupo está compuesto por: Josh Homme (guitarra y voz), John Paul Jones (bajo) y Dave Grohl (batería) que componen una formación de tres músicos que han triunfado en los años 90, con sus grupos, Josh Homme (Queens of the Stone Age) y Dave Grohl (Nirvana y Foo Fighters) y John Paul Jones (Led Zeppelin) en los años 70.
Así, este es un proyecto que Homme y Grohl realizan mientras descansan de tocar con sus bandas al contrario que Jones puesto que la suya se separó en los 80. Este proyecto se ha visto impulsado debido a la buena relación de Dave Grohl con Josh Homme (al que acompañó con su grupo en una gira en el año 2001) y con John Paul Jones ( con el que ha participado en varios conciertos) y a los que reunió en su cuarenta cumpleaños para ver si se compenetraban y evidentemente así fue. Así, podríamos decir que este grupo está unido por un Grohl que ya declaró en 2005 en una gira con los Foo Fighters "tengo pensado realizar un proyecto musical que me incluye a mí en la batería, a John Paul Jones al bajo y a Josh Homme a la guitarra".
Con esto, el primer álbum de la banda salió a la venta el pasado 16 de noviembre de 2009 teniendo muy buena acogida por parte del público y de la crítica calificándolo como un gran álbum de Hard Rock que mezcla influencias de los tres músicos. Aparte los tres han declarado que esto ha sido el principio y que ya están trabajando en su segundo álbum que promete ser más poderoso que este primero, y que esperemos que encumbre a Dave Grohl, Josh Homme y John Paul Jones (de izquierda a derecha en la foto) y nos haga disfrutar de su gran música a todos.
Esto era cuestión de tiempo y mi tiempo se ha acabado
De parte de Coque, gracias